Sardar Ke Chutkule – Sardar Jokes in Hindi, Mast Funny Jokes on Sardar ji
Sardar ko Phassi ki Saja Hui
Police
: Tumko kal Subah 5 baje phassi di
jayegi.
Sardar
: Ha Ha Ha Ha!
Sardar(Khusi se)
: Main to Subah uthta hi 9 baje hon!!
*********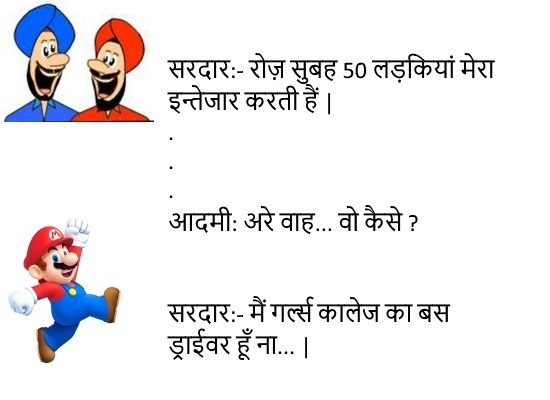 Ek bar Ek Sardar ka Padosi mar gaya,
Sardar ne uske ghar jakar Pucha – "Body AA gaya kya"
Tabhi Ambulance aa gayi…
Sardar khushi se bola, " kya Lambi Umar hai… Naam lete hi aa gaya Sala"
*********
Sardar ki wife Tours & Travels magazine padhte hue boli-
"HONEYMOON ke liye GREECE try kare? "
–
–
Sardar Bola "kyon? SARSO KE TEL Me kya kharabi hai..?"
*********
SARDAR – Docter this bucket has a hole. Can u plz repair it?
DOCTOR – Stupid! Do u know who i am.?
SARDAR – of course
I know u r specialist in plastic surgery.
**********
Ek SardarRoz Subah Ped ki Daal par chadh K baith jata tha. Pucho Kyo?
MBA karke Pagal ho Gaya Tha… Apne app ko Branch Manager Samajhta tha…
**********
Interviewer:
what is your birth date?
Sardar: 13th October
Which year?
Sardar: Oye ullu ke pathe _ _ _ EVERY YEAR
*********
Sardar ne Ladki ka Name Likh Diya
Ek SARDAR Apne Hath PE BLADE SE…
LADKI KA NAAM LIKH RAHA THA…..Ki ACHANAK….
ZOR SE RONE LAGA…
DOST : PIYAR KARTA HAI TO ROTA KU HAI..??
SARDAR : Are yar SPELLING GALAT HO GAYi…:) 🙂
————**************————-
Sardar to Doctor : Doctor saab yeh bachhey itney sharaarti kyo hotey hai?
–
–
–
–
Doctor Saab ka Sharaarti Reply :
–
–
–
–
Jo cheez paida hi sharaat se hoti hai woh shareef kaise ho sakti hai…
***********
Sardar was doing experiment with cockroach, first he
cut it's one leg
and told WALK. WALK. Cockroach walked. Then he
cut it's second
leg and told the same. Cockroach walked. Then cut the
third leg and
did the same. At last he cut it's fourth leg and
ordered it walk!
But cockroach didn't walk. Suddenly sardar
said loudly, "I
found it. If we cut cockroach's four legs, it becomes
deaf.
————**************————–
Sardar in Foreign Country
After returning back from a foreign trip, sardar
asked his wife,
Do I look like a foreigner?
Wife: No! Why?
Sardar: In London a lady asked me Are you a foreigner?
————**************————–
One tourist from U.S.A. asked to Sardar: Any great
man born in this
village???
Sardar: no sir, only small Babies!!!
————**************————–
Lecturer: write a note on Gandhi Jayanthi
So Sardar writes, "Gandhi was a great man, but I
don't know who is
Jayanthi.
————**************————–
When sardar was traveling with his wife in an auto,
the driver adjusted
mirror. Sardar shouted, "You are trying to see
my wife? Sit
back. I will drive.
————**************————–
Sardar went in a hotel. To wash hands he went to the
washbasin. There
he started washing the basin. Seeing this, the
manager asked what
was he doing. Sardar pointed towards the board
"WASH BASIN"
*********
Interviewer: just imagine you r in 3rd floor, it
caught fire
and how will you escape?
Sardar: its simple. I will stop my
imagination!!
**********
Ek sardar Galti se Ladies toilet Me chala gaya.?
Ek Lady boli ye Mahilaon ke liye hai…
Sardar ko Gussa aaya aur apni pent khol ke bola…
"YE BHI MAHILAON KE LIYE HI HAI"…. :):)
Read More Related Jokes
Sardar Jokes in English
Sardaron ne Pura Kabristan Khod Dala
More funny Chutkule – Suhagrat ki Baat