Dirty Jokes | Non Veg Jokes | Chutkule – New Hindi Non Veg SMS
एक औरत डॉक्टर के पास गयी
डॉक्टर ने चेकअप किया और बोला
डॉक्टर – ऊलटी होती है क्या?
औरत – आप बोलो तो हो जाती हूँ।
डॉक्टर बेहोश ||
*************
Girl – Aaj office jate hi Boss Mujh pe Chad Gaya!!
Ladka – Kyu???
Girl – Yar Main 'Late Gayi' thi.. isliye
*********
Rahul – Bhai kal Meri GF ka Birthday hai..usko kya du????
Kamina Dost – Bhai Usko na Apna Pappu de de…
Rahul – Yar mujhe use kuch Bada Gift dena hai…
Kamina Dost – To fir Usko Mera PAPPU de de bhai..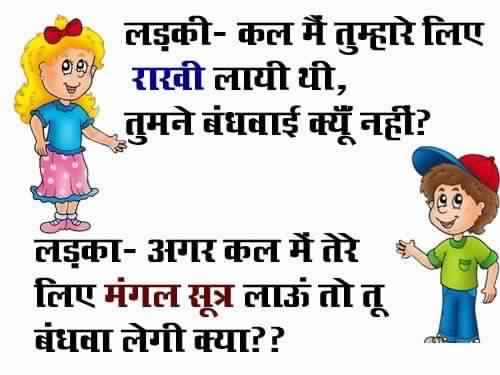 Ek Ladki Apna Chata (छाता) thik karwane gayi,
Chata Wala – Madam pahale uper ka Kapda (कपड़ा) Utarna (उतारना) Padega aur Niche DANDA (डण्डा) Dalna padega…
Ladki – Jo Marzi (मर्ज़ी) Karo bas Pani Andar Nahi Girna Chahiye.
********
Ek Khoobsurat Ladki Patli Gali se ja rahi thi, Rastee
Main Ek SAAND khada tha,
Usne waha kahde Ladke se pucha – Oh Mr. ye SAAND
Marta hai kya??
Ladka – ye Cow ki to Marta hai
Apki Pata nahi MAREGA ya 😆😆😆😆
********
2 Ladki aapas main Baatein kar rahi thi
Pehli Ladki Boli – Yaar ye Love Marriage aur Arrange Marriage main kya Fark (difference) hota hai?
Doosri Ladki Boli – Seedhi si baat hai LOVE Marriage mei LOODDEE ka size
Pehle se pata hota hai jabki Arrange Marriage main NASEEB APNA APNA
********
Kutta Aur Gadhaa ka Joke
Ek baar ek kutte ne Gadhe ko sote dekha to Kutte ne apna L00DA Gadhe ke Pichwade main ghusa diya
Gadhaa Bola – oye Ye Kyaa Kar Raha Hai
Kutta – Yar Main To Mazaak Kar Raha Tha
Gadhaa – Bhonssdee Ke Agar Mane Mazzaak Kiya To teri Aankhein Baahar Aa Jaayengi
********
Marne Ke Baad Ek Heejda Narak Mein Gaya
Yamraj Ne Usko Rok Liya Aur Pucha
Yaamraj – Chalo Hisaab Do Ki Duniya Mein Kya Kiya
Hijda Gusse Main – BC Tune De ke Kaya Bheja Tha Jo Hisab Mang Raha Hai
********
Ladka – Bus Train Aur Ladki Ek Aati Hai aur Dusri Jati Hai.
Ladki – Auto Riksha Aur Ladka Ek Bulao Char-Char Chale Aate Hain.
********
Pagal Wala Non Veg Joke
Ek pagal rozana kehta – Gulel banaunga aur panchhi ko marunga
5 Month pagal khane main ilaaz ke bad,
Doctor ne pucha – ab kya karoge?
Pagal ne jawab diya-
Shadi
phir?
Suhagrat
phir?
Uski sari utaruga
phir?
Blouse
Oho! phir?
Bra utaruga
My god, phir?
Phir kya! Bra ke elastic se Gulel banaunga aur panchhi ko marunga.
********
Biwi ke Sath Non Veg Jokes ki Baat Adult Baat in Hindi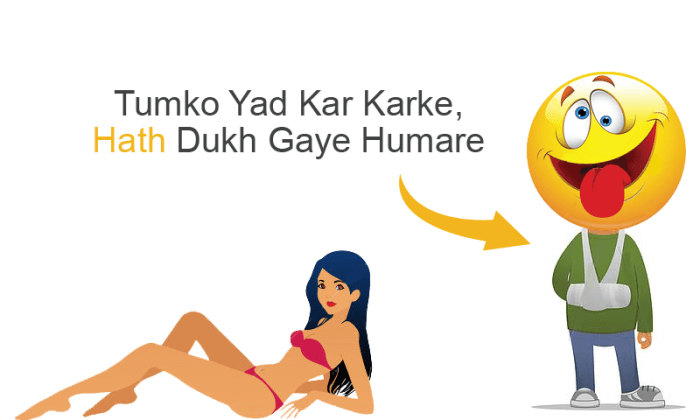 Biwi Ko Thappad marne Ke Bad pati Bola
Darling Admi use hi marta hai jise wo pyar krta hai
Biwi Ne Bhi 2 Kheech Ke mare OR Dhire
Se Boli – Aap kya samjte ho main apse pyar nahi karti.
********
Ek Ladke ne mujhe hath laga kar kaha Darling ye tumhari tangon ke beech main kya hai.
mane kaha ye lakir hai.
mane bhi uski tangon ke beech mein hath laga kar kaha ye kya hai.
us ne kaha ye usi lakeer ka faqeer hai.
********
Girl – Jaanu Aaj Aisa SaXx Karo Ki Meri Chillane Ki Aawaj Dur Dur Tak Sunai De
PaPu Ne OK bola aur CONDOM Par LAL MIRCH Lagai.
Bas Fir kya…
Lal Mirch Ka Tadkaa
Ang Ang Fadka !!
********
Pati Patni Bathroom main Ek Sath – Hindi Non Veg Jokes




Ek बेरोजगार अपनी पत्नी के साथ नहा रहा था –
पत्नी ने उसके टट्टे पर साबुन लगाया तो उसका खड़ा हो गया…
पत्नी जोर से चिल्लाई –
"इसे छोटा कर ले भो सडी के, साबुन अभी दो हफ्ते और चलाना है…! "
😀😀😀
***********
Ek Jyotish ne ladke ka haath dekha aur bola – Beta tum bahut padhoge
Ladka – Saale padh to main 5 saal se raha hun, ye bata ki pass kab hounga
********
Agar Ek Ladki Ro Rahi hai toh uski 10000 Wajah ho
Sakti hain. Aur Agar ek Ladka Ro Raha hai to uski bas Ek hi Wajah
Hoti hai. LADKI!!
********
Ladka aur Ladki Car Main Raat Ko Ghumne Jaa Rahe The
Ladki – Aaj Main Tumhe Wo Jagah Dikhaungi, Jahaan Se Mera Doodh Aata Hai
Ladka Ye Sunkar Bahut hi Khush Hua Aur Tharaki Andaaz Main Bola
Ladka – Haan Jaldi Dikhao, Jaanu
Ladki Muskurate Hue Boli – Wo Samne Dekho Mother Dairy
********
Sexxy voice of a female customer care executive:
Hindi Ke Liye Ek Dabayen
English ke Liye Do Dabayen
Santa : Sala Ye Hindi Walon Ke Saath to Na Insaafi Hai!
********
Sabse Latest aur ekdum FAADU Chutkula
Ek ladke ke proposal ko ladki ne thukra diya
To Ladka ne bola
Jitna Dimaag tujhme hai, Utna Dimag to mera Kharab rahta hai…
Ladki ne bahut hi Khubsurat reply kiya,
"Abe ChuutiYe" jitna tujhme KHOON hai na, Utna to har mahine PERIODS main nikal deti hu…
Bhai Ladkiya bahut tej hain aajkal
********
<<<<<<<<<<
Read Husband Wife Non Veg Jokes and Non Veg Shayari
More Jokes & Chutkule on
Suhagraat Jokes
Suhagraat ki Baat part 2
Boy Girl Jokes
Gande Jokes
Latest Chutkule