Chutkule Hindi Jokes – Mast Majedar Funny Chutkule in Hindi
Patni ki chaddi kho gayi
Usne Apne Pati se pucha to use bhi nahi pata tha
Pati ne maid se pucha
Maid
– Shahab Aapko to pata hai main chaddi nahi pehanti…
***********
टीचर : तुम इतनी देर से क्यों आए हो ?
बच्चा : मम्मी पापा लड़ रहे थे…
टीचर : वो लड़ रहे थे तो तुम क्यों देर से आए ?
बच्चा : मेरा एक जूता मम्मी के पास और दूसरा पापा के पास था…!!
😀😀😀😀😜😜😜😜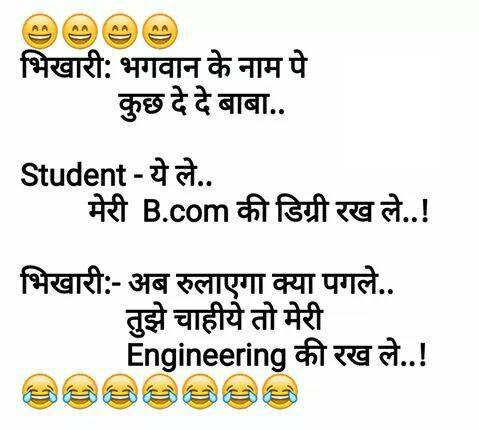 ***********
Santa knocks the door
Banta – kaun hai ??
Santa – main hoon
Banta – main kaun ??
Santa – Abe pagal khud ko hi bhool gaya tu banta…
***********
Sabse Bada Chutiyaa – Chutiya Jokes
Beta – Papa aap to chutiya ho
Santa – Kyu be?
Beta – Kal jab aap bahar gaye the to mane
Mummy ko uncle se kehte hue suna tha
"Jaldi aa jao nahi to wo chutiya aa jayega"
***********
Santa – Yaar meri shadi karwa de
Banta – Karwa to dunga, lakin ek shart hai, teri shadi ke baad
main teri biwi ko cinema dikhane le jaunga…
Banta – thik hai le jaiyo par meri bhi ek shart hai
Main shadi teri bahan se karunga…
***********
Sarabi (Doctor se) – Aap meri Sarab chudwa sakte ho kya ?
Doctor – Han kyu nahi…
Sarabi – To Police ne meri 20 Botel pakdi hai… Pls Chudwa do…
***********
Chintu : Papa aap Press kyu kar rahe ho…
Papa : Press karne se Silwate naikal jati hain…
Chintu : Phir to achha hai Papa, Main Dada ji ke Gaal ki bhi Silwate nikal dunga…
***********
Dada (Pote se) – Teri Teacher aa rahi hai, ja chup ja…
Pota – Pahale aap chup jaoo, apki Maut ke bahane mane 2 week ki chutti le rakkhhi hai…
***********
Ladka – Tum chaddi kyun nahi pehanti ho?
Ladki – Mane apne pati se wada kiya hai ki uske alawa main kisi or ke aage apni chaddi nahi utarungi..!