Jokes of the Day | Latest Chutkule Jokes
Bhagwan
– Beta… koi Mannat Mango…
Rohit
– Please mujhe phir se
Unmarried
kar dijiye..
Bhagwan
: "beta "
MANNAT
" Mango "
JANNAT
" nahi…
************
Conductor – bache ka ticket???
Rajasthani Lady – Iiko be ticket lage Hai Ke??
Conductor – Ha Lage Hai…
Rajasthani Lady : Arey… Magar… Yo to abhi bi maro BOBLO Chuse hai.
Conductor : Arey BOBLO to Iiko baap bhi chuse hai, to uke be free me bithau k baavri.???
************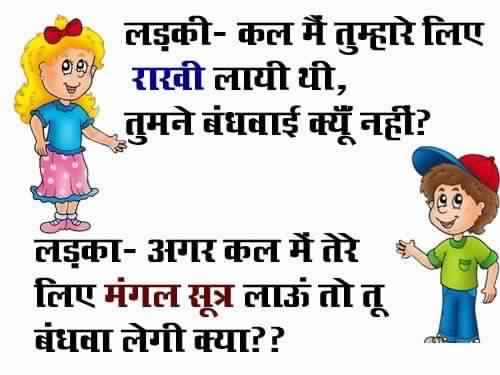 Father 2 son: When i beat you How do you control your anger?.. ?
Son: By cleaning toilet…
Father: What is my loss
Son: I clean toilet with your tooth brush
************
Palang Tod Joke
Pati Gaana Gaa raha tha – Main Duniya Hila
dunga Teri Chahat main..
–
–
–
–
Patni– Rahne do Raat ko Khatiya to Hila
Nahi pate, Duniya kya Khak Hilaoge.?.
************

Bhikhari – Behanji 1 rupiya dedo.
Malika gave him 1000 Rs.
Secretary – Why u gave him 1000 Rs..?
Malika – Pehli bar kisine behan kaha!

************
Ek Nursery class ka baccha bola – "Ma'am main aap ko kaisa lagta hoon ???
–
–
–
Ma'am – "So Sweet"
–
–
–
–
Baccha apni side ke ladke se bola – "Dekha maine kaha tha na line marti hai…