Suhagrat (सुहागरात) Ladki ki Suhagraat Ki Baat – Suhagrat Jokes / Chutkule / SMS & Story in Hindi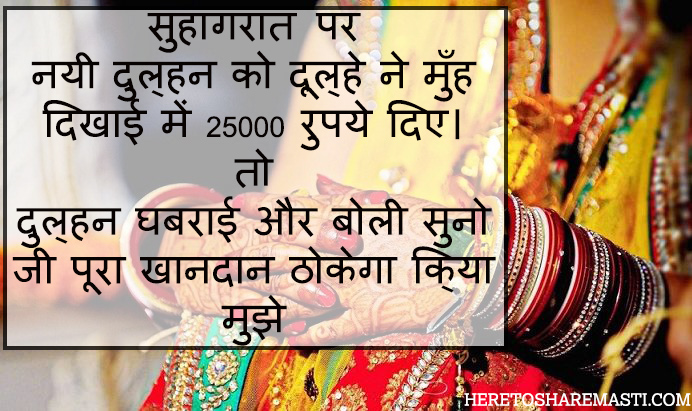 Ladki ki Suhagrat
ke baad
Uski Saheli (सहेली) Puchhti hai
Aur Kaisi rahi
Suhagrat
?To wo batati hai –
Aaye the wo der se, Dil jala diya
,
Pahle kiya Darwaza (दरवाज़ा) band,
Fir Deepak (दीपक) Bhuja diya…
Pahle khel khelne lage Seena Tatolkar (टटोलकर),
Fir khel khelne lage Underwear khol kar,
Ek Jang Aisi chhidi (छिड़ी) Palang par,
Gole wali Top rakh di Surang (सुरंग) par
,
Yah tha
9 Minute ka Mazaa
,
Ab bhog (भोग) rahi hu
9 Mahine ki saja
,
9 Mahine
baad Ek aisa hoga Visfot (विस्फोट),
Jo ban jayga Bharat ke liye 1 Aur Vote
…
*********
First Night (Suhagrat) jokes in hindi
Husband ne next day apni Wife se poochha – "Tum aaj tak kitne logo ke sath soyi ho?"
Wife – Such bolu to sirf aap ke sath hee soyi hoon, baki sabke saath to saari saari raat jaagi hoon…"
*********
Sabji wale ki Shaadi hui. Suhag raat ko Patni ki Bra and Panty khol kar paani chidakane laga…
Biwi boli– Ye kya kar rahe ho ji?
Sabjiwala – Maal ko Taaza kar raha hun.
*********
Suhagrat Par Pati Achhe Tarike Se SAEx Nahi Kar Paya…
Morning main Dulhe Ki Maa Ne Dulhan Se Puchha – Bahu, Suhagrat Kaisi Rahi?
Bahu ka Reply – Maa Ji Kya Batau,
Grah Parvesh (ग्रह प्रवेश) To 2 Baar Hua, Par Grah (ग्रह) Shanti Nahi Ho Paayi…
*********
Nayi Dulhan Ko Dulhe Ne Suhagrat Par Muh Dikhai main 25,000 rupaye Diye…
Dulhan Itne Sare Paise Dekh Kar Ghabra Ke Boli.
Dulhan – "Suno Ji Pura Khandaan (ख़ानदान) Thokega (ठोकेगा) Kya?"
*********
Suresh Ki Shadi Hui Aur Wo Bahut Dino ke Baad Apne Kamre Se Bahar Nikla,
To Uske Baap Ne Us Se Pucha
Baap – Beta, Kya Baat Hai Badi Long Inning Khel Kar Aaya Hai?
Suresh – Duniya ki asi ki tasi, Pahle Ye Batao Ki Andar Tel Ki Botal Ki Jagah Fevicol Kon Rakh Kar Aaya Tha.
*********
Suhagrat ko Pati ne apni Patni se bade hi pyaar se puchha –
"Darling aaj ki raat tum mujhse jo bhi mangogi main tumhe sure lake Dunga"
Patni ne jaldi se Takiye ke nichhe se ek photo nikali aur boli –
"Please iss bande ko aaj ki raat laa do aur tum kahi chale jao"
*********
Shock of life on first night सुहागरात
Suhagrat Ko Pati Ke Ander Guste Hi Biwi Ne Apna Blouse Utar Diya.
Pati Ye Dekh Kar Bada Hairan (हैरान) Hua Aur Biwi Se Pucha?
Pati – "Arrey Tum ne Mere Aate Hi Apna Blouse Kyu Utaar Diya?"
Biwi Sharmate Hue – "Ji, Aapki Bhabi Ne Kaha Tha Ki Jaate Hi Apne Pati Ko…
Dudh Zarur Pila Dena"
*********
Suhagrat Ke Baad, Pati Apni Patni Se Bola
Pati – Arey Blood To Nikla Hi Nahi…
Patni Ne Guusse Main Aakar Jawab Diya
–
Patni – "Kyu be Harami Tune Andar Teer Mara Tha Kya."
*********
Ek Aadmi Ki Nayi Nayi Shadi Hui, November Ka Mahina Thha Aur Kadake Ki Sardi padd Rahi Thi…
Kamre Mein Aate Hi Vo Rajayi Mein Ghusa Aur So Gaya,
Patni Ne Ye Dekha Aur Thodi Der Bad Usko Kohni Mar Ke Boli,
Patni : "Suno Ji, Meri Taango Ke Bich Mein Ek Mori (Hole) Bhi Hai"
Aadmi Gusse Se : "To Band Kar Us Mori Ko, Main Bhi Sochu Rajayi Mein Thandi Hawa Kaha Se Aa Rahi Hai"
*********
Ladke Ki Nayi Nayi Shadi Hui, Rat Ko Kamre Mein Gaya Aur Dulhan Ka Ghungat Utha Ke Uska Chehra Dekh Ke Bola…
Dulha – "Tum Itni Sunder Ho, Samajh Mein Nahi Aata Tumhe Kya Kahu?"
Bahar Khada Uska Baap Sun Raha Tha, Ye Sun Ke Wo Bola…
Baap – "Beta Bas Tu Use Ek Baar Maa Kah de, Baki Mein Dekh Lunga"
*********
Suhagrat ko Dulha bola – Jaan, Aaj raat tumhe chand pe le jaaun ya taaro pe…
Dulhan sharma ke boli – Ye to Aapka rocket dekh kar hi bataa paungi…
*********
Mochi ki Suhagraat
Mochi Ki Shaadi Hui,
Suhaagraat Mein Woh Kuch Kiye Bina Hi So Gaya.
–
Biwi Ne Uska Haath Apne Neeche Lagaya Toh Woh Chonk Ke Bola,
–
–
–
"Isski Silaai Ke 35 Ruppaye Lunga"
*********
Suhagraat Ke Baad :
Pati -Tujhe Raat Ko Zyada Dard Ya Takleef To Nahi Hui na?
Patni -Nahi, Bahut Maza Aaya… Dard to Tab Hota Tha Jab Mai School Mein Thi…
*********
Ek Admi Ke Bete Ki Shadi Hone Wali Thi Toh Wo Furniture Wale Ke Pass Gaya Aur Bola,
Aadmi : Mistri Ji, Bed Zara Majbut Banana, Mere Ladke Ne Bahu Pe Chadna Hai.
–
Ab Mistri Bhi Pura Kameena Tha, Bola – Ji Chinta mat Karo, Aisa Majboot Bed Banaunga Ki Sara Mohalla Bhi Bahu Pe Chad Jaaye Toh Bhi Nahi Tutega…
*********
Suhagrat ko Ladki husband se boli "KAROO?
Husband – mujhe kuch nahi aata,
Wife – koi baat nahi jaise main karu waise hi karte jana,
wife ne kapde utare husband ne bhi kapde utaare fir..
Wife ne letker taange utha lee to husband ne bhi letkar taange utha li or bola"ab"?
Wife – ab aisa kar Bahar se 3 aadmi bula laa..
ek meri marega aur ek TERI.
Husband – aur teesra.?
Wife – teesra free ka msg padhne wale ki marega jo bahut muskura raha hai..
*********
SuhagRat par dulha – Ya Allah Mujhe Taqat aur Tajurba de
Dulhan – Suniye ji sirf taqat ki dua mang lijiye,
Allah ke fazal se Tajurba to yahan bahut hai…
**********
Suhagrat par Dulhe ne Dulhan ki aankh ko chuma…
Dulhan : Ye Kya?
Dulha : Aankh Zindagi ki kitab hai..
Dulhan : Niche library main Aag lagi hai aur tu kitab main ghusaa hua hai…
**********
Pappu apni pahali Suhagrat ko apni Dulhan ko Sahlate hue bola – Apko pata hai..
Main hamari sadi se pahale 6-7 Ladies ke sath So chuka hu…
Dulhan Muskrate hue – Mujhe to pahale se hi pata tha,
Jab hamari Kundli itni achhi milti hai to hamari AAdatein bhi Jarur milengi hi na…
**********
Husband wife se bolta hai ijaajat hai
?
Wife – Hai ji.
Husband sari raat saxx karta hai aur wife Bimar ho jati hai…
husband wife ko sasural chodd kar wapas aane ke liye apni Saas se bolta hai – ijaajat hai?
Ye baat sun kar wife jor se chilla kar bolti hai – Maa ijaajat mat dena, nahi to tumhari bhi Phaad daalega…
**********
Suhagrat par Patni Pati se boli, Dekho pls mere pass mat Aana"
Pati : But kyu?
Patni : Mane mummy se promise kiya tha ki Sadi ke baad ye sab Chodd dungi…
**********
Suhagraat ke Time Dulha Dulhan se bolta hai,
Dulha – Aaj se tum meri puja ho, Archna ho, Aarti ho
Dulhan Sarmate hue – Aaj se app bhi mere liye
Rhul ho, Chetan ho, Aanad ho, Aakash ho, Pradeep ho..
Dulha behosh
**********
Suhagrat par Nargis ka Kamaal
एक आदमी ने नरगिस को गोद में बिठा के पूछा – तुम एक रात में कितना कमा लेती हो?
नरगिस – Rs..50,000
आदमी – सच बता?
नरगिस – रोज़ी पे बैठी हूँ झूठ थोड़ी बोलूँगी
अर्ज़ किया है…..
**********
पलट कर देख जानेमन,
जिगर मे दम हम भी रखते हैं.
ब्रा में दो बम तुम रखती हो तो,
चड्डी मे एक गन हम भी रखते है.
<<<<<<<<<<<
Read more Funny Jokes & Chutkule
Suhagraat ki Baat part 2
Non Veg Jokes
Boy Girl Jokes